The Tim O'Connor Band
Details | Testimonials | Media clips | Contact us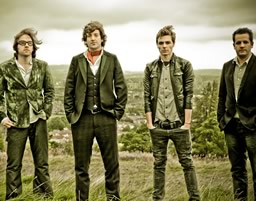 Tim O'Connor has been a professional musician and performed in bands for ten years. At only 27 this makes him a fantastic combination of experienced, confident, professional and young! Now specialising in weddings, corporate events and private parties, the Tim O'Connor Band is all you need to get your party started!
The Tim O'Connor Band provides your party with the highest and most vibrant standard of entertainment available. The session players are of the highest calibre, knowing how to make your party take off with the best songs from the last forty years of pop music history. The Tim O'Connor band are like having the real deal at your event, but read on...
There is also the rare opportunity for a very special event to have an appearance from one of Scotland's most successful guitarists of the last twenty years, Wet Wet Wet's Graeme Duffin, veteran of football stadium shows, world tours and chart topping success. This is not like having the real deal at your event, this is having the real deal at your event!
Testimonials
"Consummate professional, superb musician and above all a safe pair of hands." - Steve McKenna (Real Radio)
"I love it!" - Stuart Nelson (Hotel Manager, Hilton Glasgow Grosvenor)
"The most supersonic covers band in the world!" - Tom Morton (BBC Scotland)
"A mightily versatile voice, undeniable charisma and stage presence, and a very charming fellow into the bargain, Tim is all you could wish for in a front man." - Graeme Duffin (Wet Wet Wet)
Media clips
Contact us