The London Showband
Intro | Media clips | Contact us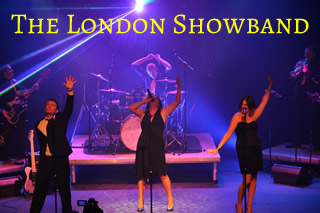 The London Showband are an explosive and awe-inspiring ten-piece live band who are uniquely flexible to scale down the size of the band to fit the client's budget or stage size – 4, 5, 6, 7 piece band also available. They perform all the best pop, soul and rock covers from the last 50 years. They were formed in 1999 and have since toured the UK extensively and been flown abroad to appear at events. In 2007, the band shared joint billing with The National Symphony Orchestra at the Quex Prom in the Park to over 6,000 people. In 2013 they appeared on the BBC for a TV wedding.
Known widely for their high energy, extremely visual and entertaining performances, The London Showband has been in high demand on the function and corporate event scene.
They will provide your entire evening's musical entertainment including two hours of live music. They absolutely guarantee they will pack any dance floor of any age range with their grooves and moves.
The band provide PA, lighting, sound engineer and DJ as part of their price.
They can cater for a wide range of requirements when it comes to size, space and budget, with options from four to ten-piece bands.
The band comprises some of the very top musicians in the country from leading orchestras, West End shows and session musicians. The ten-piece version brings to your event a sound and vibe that has rarely been matched and will leave your guests talking about them for years!
Media clips
Contact us