Q The Music
Intro | Media clips | Contact us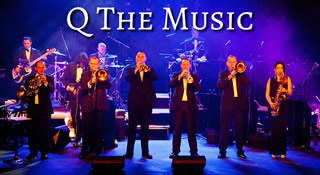 Q The Music are an explosive and awe-inspiring 13-piece live band. They perform all the title themes from the James Bond films. They were formed in 2004 as the first ever James Bond tribute band in the world, and have since toured the UK extensively and been flown abroad to appear at events, establishing a worldwide reputation. In 2007, the band shared joint billing with the National Symphony Orchestra at the Quex Prom in the Park to over 6,000 people. In 2013 they appeared on the BBC for a Bond-themed TV wedding.
From the very first time the now instantly recognisable James Bond Theme was heard in Dr. No the James Bond films have developed into perhaps the most popular series ever. The exotic locations, the actors, the Bond Girls, the villains, Miss Moneypenny, Q, the gadgets – these are all things we have come to expect from a Bond film, but of course, also a stunning, electrifying and engrossing musical score is part of that package!
As well as appearing at events in Monte Carlo, Guernsey, Switzerland, Cyprus, Gibraltar, Czech Republic, Italy, Majorca and Germany, Q The Music has also played at almost every major venue in the UK including the Natural History Museum, NEC Birmingham, Royals Courts Of Justice, The Waldorf, Pinewood Studios and many many more.
Why not take things to the next level and have one of the best and most awe-inspiring tribute bands around at your event? Q The Music will provide your entire evening's musical entertainment including 2.5 hours of live music.
Whether you choose to just have Bond music, or have a set of party music, this band has all the bases covered. They have up to two hours of James Bond covers, and far more in party and dance music. Their party set is just as electric as the Bond set – and will pack any dance floor of any age range with their grooves and moves.
Q The Music, being the longest serving and only professional James Bond band know just how to give you an experience that will leave your guests talking about it for years and years – guaranteed.
Media clips
Contact us