Bill Ding and the Skyscrapers
Details | Media clips | Contact us
Bi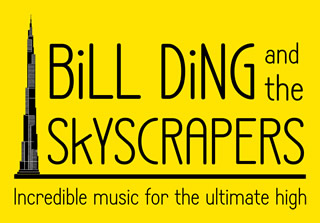 ll Ding and the Skyscrapers has been slowly forming since 2010, but in January 2014 they committed to the name and started to get the show rolling. Since then the flood gates have opened and they're performing all over the UK, from weddings to festivals and beyond.
Bill Ding and the Skyscrapers is a collective of professional musicians mostly based in the South West UK. All the band members are involved in other musical ventures and regularly play with some of the UK biggest names – including Joss Stone, Kelis and Sandi Thom to name just a few.
If you're looking for a great function band then look no further! Bill Ding and the Skyscrapers will take you through the decades stopping at all the best numbers and classics. They always promise to play their socks off, and their only goal is ensuring a good time with everyone dancing, no matter their age.
Media clips
Contact us